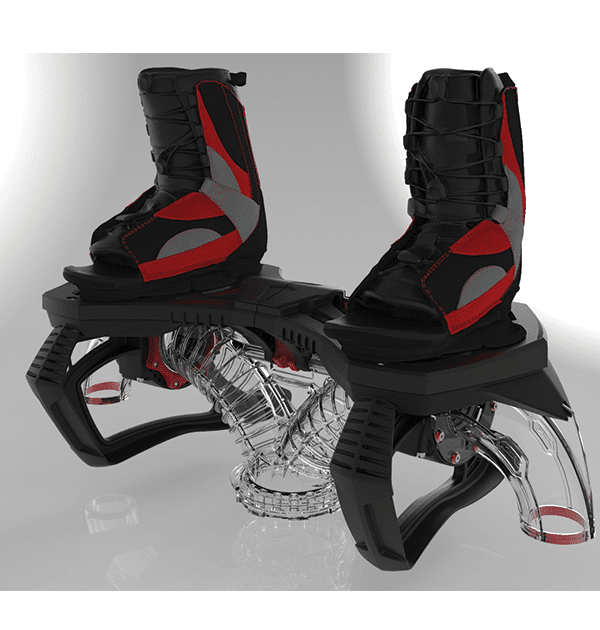 If you've seen the Flyboard before, taking a look at the 2015 Pro Series version gives you an all new perspective on one of the fastest growing water sports in the world. Invented in 2011, the Flyboard V1 captivated audiences with it's Iron Man similarity made complete with arm nozzles thrusting water propulsion. The Flyboard v2 arrived and dropped the arm nozzles, allowing for a more "free-flowing" flight that made it more simplistic for beginners to learn. Released in 2014 was the v3 Flyboard Legend, made with Quick Connect technology to make the switch over to the 2014 Hoverboard a breeze. As summer 2015 creeps upon us, Zapata Racing has proven to be a show stopper once again.
Completely revamped with multiple new features, the PRO SERIES sleek design is a treat on it's own. By constructing a Flyboard that uses plastic injection and carbon fiber, it weighs 30% less and offers the rider an experience with decreased water resistance and more strength than the V3 Flyboard Legend. Loaded with independent twisting foot pads, this innovative design by Zapata Racing allows riders to adjust the degree of twist to their experience and comfort level. The foot pads aren't the only thing that are adjustable, either. Look forward to enjoying adjustable nozzles that have also been made smoother to allow you increased efficiency.
Already own a 2014 Flyboard or Hoverboard and looking to add more fun to your collection? The 2015 Flyboard Pro Series is adaptable with Quick Connect technology and can be purchased as an add on. Take a look here! 
Click here to PreOrder yours TODAY!
Our dedicated Team is here to assist you with any inquiries!
---
(888) 265-2728