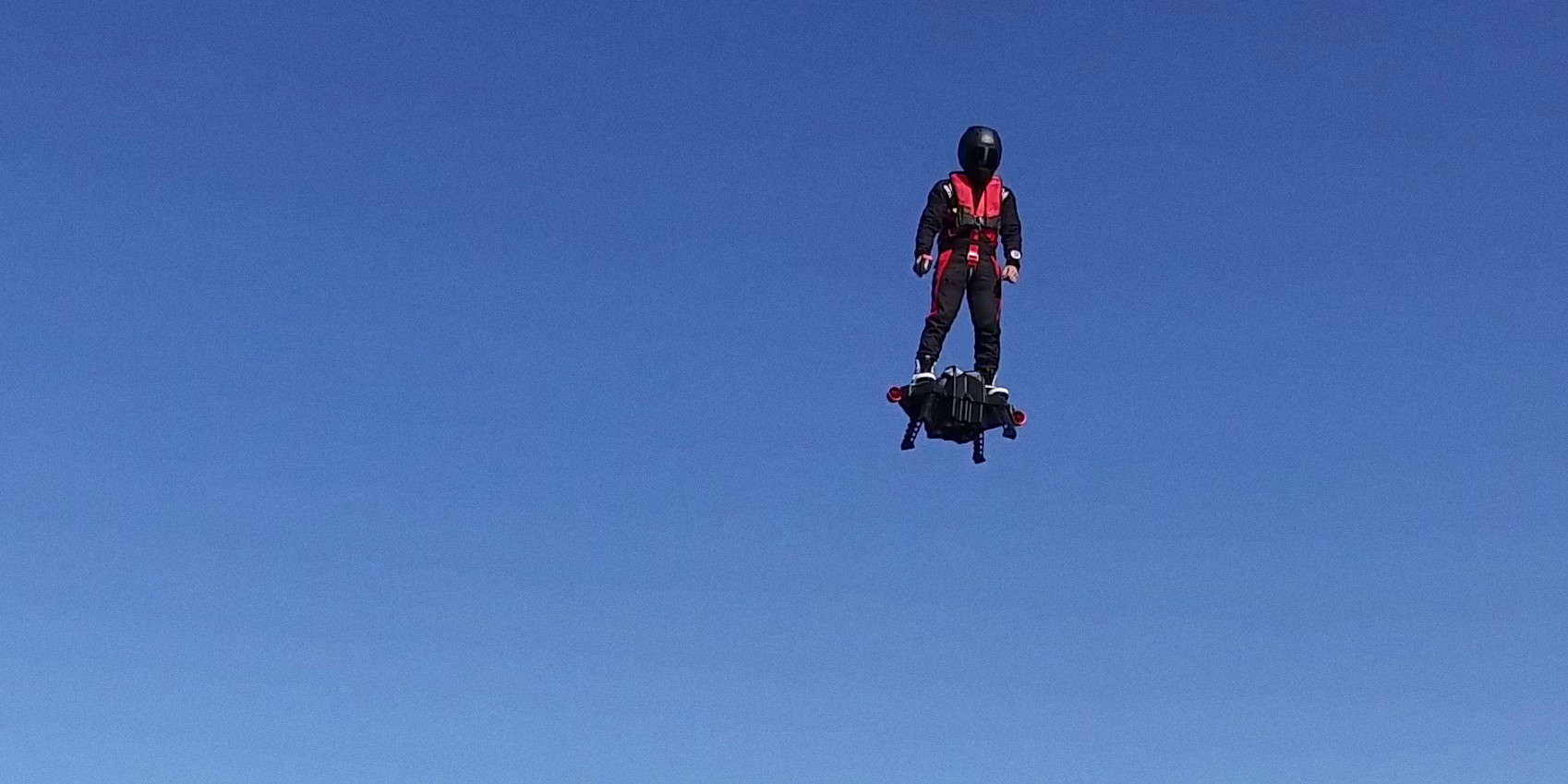 The Flyboard® Air by Zapata Racing
What is it?
The Flyboard Air is an "independent propulsion unit," Zapata says, with the ability to fly up to 10,000 feet high. A real-life hoverboard.
How does it work?
It is powered by four engines of 250 horsepower each. Similar to the original Flyboard, the flyer can control the direction of the board with their feet. However, A "logic system" is built into the Flyboard Air containing a series of algorithms to assist the flyer with stabilization. The flyer also wears a backpack full of kerosine, jet fuel, to give them ten minutes of flight time.
On April 30th, 2016, Franky Zapata set a new Guinness World Record for the Farthest Hoverboard Flight. He flew 2,252 meters (7,388 feet) over the coast of France. The previous record was 275.9 meters (905 feet, 2 inches), set by Canadian inventor Catalin Alexandru Duru in May of 2015.
U.S. Military Involvement
Zapata Industries recently announced the signing of a letter of intent for purchase by Implant Sciences, a US military firm, for about $15 million. Implant Sciences supplies the Department of Homeland Security with Explosive Trace Detection equipment. Their president stated, "we are beyond excited to have visionaries like Franky Zapata and his team on board and we are thrilled to allow for shareholders to benefit from the many breakthrough products he has already invented and the new innovations he will be unveiling in coming months and years." Zapata Industries is already designing other aircraft that would use the same technology for medical and military purposes, such as the Jet Bike, Air Stretcher, Air Cargo, and Air Platform.
When can we ride it?
Unfortunately, the Flyboard Air will not be available commercially in 2016. And although a military supplier is intending on buying the company, Franky's vision for the product is to be for both military and recreation. The dynamic is similar to the original water-powered Flyboard. The controller used also looks very much like the wireless EMK used for hydroflight products. Franky estimates that someone would have to have at least 100 hours on the original Flyboard® in the water.
Demo at the Flyboard World Cup
This weekend, September 16-18, is the Flyboard World Championship competition in Naples, Florida. You can read more about it in our previous blog post. It has been confirmed that the Flyboard Air will be demonstrated at the event.
To receive updates on the Flyboard Air, subscribe to our Flyboard Air mailing list.